Adult Learning at TBS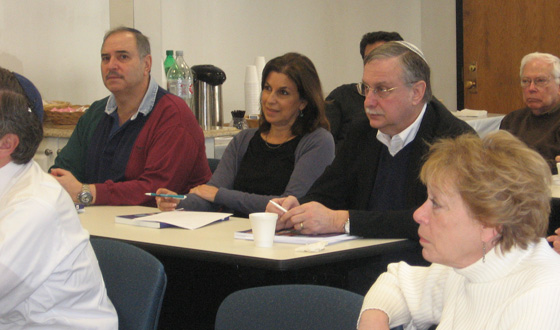 We have a phenomenal schedule of classes, seminars, workshops and lectures for adults. Sisterhood and TBS' Department of Lifelong Learning join together to bring you wonderful learning opportunities. Be a part of this enriching experience. View the class list.


Since the fall of 2002, TBS members have engaged in serious Torah study with members of the Jewish Theological Seminary faculty. Meeting twice a month, this university level course allows students to develop close and personal relationships with some of the leading scholars of the Conservative Movement. Classes take place on Thursday evenings beginning October 24 at 7:45 PM. For more information, please contact Lucy Posner at the JTS office at 212-678-8865 or email her at luposner@jtsa.edu.  
 Herbert Tarr Institute for Adult Jewish Education

The Herbert Tarr North Shore Institute for Adult Jewish Education offers a diverse spectrum of courses designed to broaden your knowledge and understanding of our rich heritage. The first hour will be devoted to the course you select; the second hour will feature a different guest lecturer each week who will speak on contemporary Jewish issues. Join us for adult classes and other wonderful lectures. To learn more contact the Temple at 516-621-2288.
Sisterhood Adult Education Classes

We are fortunate that the Sisterhood of Temple Beth Sholom sponsors many of our Adult Learning offerings. These classes, Brunch and Learns, and Rabbinic Lectures are wonderful learning opportunities for all members of our congregation, not just Sisterhood members. Sisterhood learning offerings this year include:

•    Conversational Hebrew Classes (From Beginner - Advanced)
•    Aleph Bet Hebrew Reading
•    Prayers and Blessings
•    Herbert Tarr North Shore Adult Institute for Jewish Studies
•    Monthly Brunch and Learn Program