Celebrate Israel Parade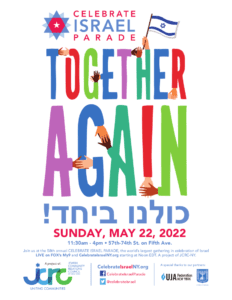 Join us at the 58th annual CELEBTATE ISRAEL PARADE, the world's largest gathering in celebration of Israel.
Bus Registration and T-Shirts
We have reserved 35 seats on a coach bus that will leave the temple parking lot at 11:15 AM. There is no charge for the bus however you must reserve your seats in advance.
For security purposes an official parade t-shirt must be worn to march in the parade. The t-shirts are being sponsored anonymously.
The deadline to register is Friday, May 20th.