Sisterhood Book Discussion Group via Zoom
Caste : The Origins of Our Discontents by Isabel Wilkerson
NEW YORK TIMES BESTSELLER • OPRAH'S BOOK CLUB PICK • The Pulitzer Prize–winning, bestselling author of The Warmth of Other Suns examines the unspoken caste system that has shaped America and shows how our lives today are still defined by a hierarchy of human divisions.
 
"An instant American classic."—Dwight Garner, The New York Times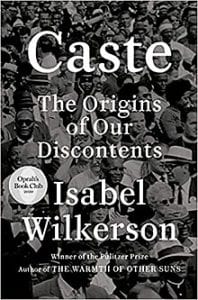 In this brilliant book, Isabel Wilkerson gives us a masterful portrait of an unseen phenomenon in America as she explores, through an immersive, deeply researched narrative and stories about real people, how America today and throughout its history has been shaped by a hidden caste system, a rigid hierarchy of human rankings.
Beyond race, class, or other factors, there is a powerful caste system that influences people's lives and behavior and the nation's fate. Linking the caste systems of America, India, and Nazi Germany, Wilkerson explores eight pillars that underlie caste systems across civilizations, including divine will, bloodlines, stigma, and more.  She documents how the Nazis studied the racial systems in America to plan their out-cast of the Jews.
Beautifully written, original, and revealing, Caste: The Origins of Our Discontents is an eye-opening story of people and history, and a reexamination of what lies under the surface of ordinary lives and of American life today.
Books are on reserve at the Roslyn Library. Facilitator: Wende Jager-Hyman.
To register please submit the form below and the Zoom link will be emailed to you prior to the Book Discussion.