Sunday Minyan Breakfast Sponsor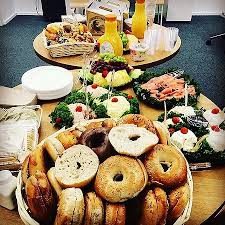 Become a Sunday Morning Breakfast Sponsor to mark a yahrzeit or to share a simcha after minyan!
The name of the person you are honoring or remembering will be shared in both the weekly Programming and Education and the Shabbat Shalom e-blasts prior to the Sunday breakfast that you are sponsoring. This way your community will know and make time to be at synagogue with you.
$120: Basic Platter includes 2 tunas, 1 egg salad, plain cream cheese, tomato & onion, and 12 bagels (serves 10-12 people)
Additional people x $9 pp
$180: Enhanced Platter includes Basic Platter + Lox (serves 10-12 people)
Additional people x $15 pp
$36: Fruit Platter (add on only–not a single platter option)
$36: Cookie Tray (add on only–not a single platter option)