Eva Hesse: Understanding Trauma Through Humor & Absurdity
TBS Sisterhood invites you to attend An Evening of Modern Art with Evie Adsetts, Art Historian and Art Professional.
Eva Hesse: Understanding Trauma Through Humor & Absurdity
Eva Hesse was an abstract painter and sculptor in the 1960s. Hesse was a Holocaust survivor who died at a young age of cancer and has often been seen as a traumatized artist. However, Hesse was a survivor who cared for her health and acknowledged and addressed her trauma. Ms. Adsetts will present the narrative of Hesse, focusing on her survival of trauma through humor and absurdity, a perspective that is innately Jewish. Like many other Holocaust survivors, Hesse used humor as a coping mechanism. Ms. Adsetts will discuss the healing properties of Hesse's work, as well as the trauma she experienced. Hesse's work offers visual relief, humor and understanding through visual absurdities. Laughing is encouraged. To view a short clip about the artist, click here.
About the Speaker: Evie Adsetts, B.A. Art History & Photography, University of Miami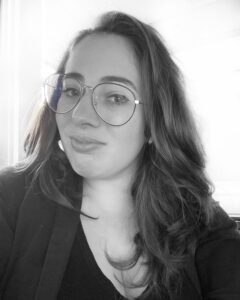 Evie Adsetts is an art historian and arts professional, particularly interested in the humor of art. Ms. Adsetts has diverse experience at world-renowned museums such as Perez Art Museum Miami and local museums such as the Sugar Hill Children's Museum of Art and Storytelling. Throughout her career Ms. Adsetts has worked with and studied many notable artists. Adsetts majored in Art and Art History at the University of Miami and is currently pursuing a master's degree at Fashion Institute of Technology in the Art Market Studies program. Hesse is the subject of Ms. Adsetts' thesis. Her art historical work has primarily been in Abstract Expressionism, Modern and Contemporary Art, and emerging artists, with a focus on women and other underrepresented artists. Ms. Adsetts has written for the Center for Art Law and sits on the awards committee for the New York Studio School Mercedes Matter Awards. 
Although the program is free, sponsorships are available & appreciated to support future programming: Gold Sponsor: $36  –  Silver Sponsor: $18
The program will be In-Person & available on Zoom.
Registration is required to receive your Zoom link by submitting the form below.
(Please check your spam/junk mail for the email confirmation with the Zoom link)

Registration Deadline: Wednesday, October 27th
Eva Hesse: Understanding Trauma Through Humor & Absurdity