An Array of Events Happening
in our Surrounding Community
Date: April 18 and April 27, 2021
Event: We Shall Not Be Silent: Conversations on Race
shirathayam.org
Date: May 3, 2021
Time: 6:30 pm
Event: A Conversation with Isabel Wilkerson
Register
Purchase the Book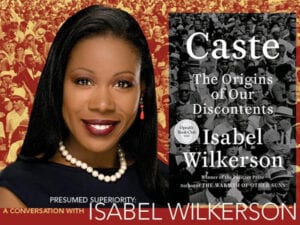 The Nazis long taught that Jews were "Untermensch," the Indians characterized Dalit as "untouchable" and Americans considered Blacks to be "congenitally inferior." Caste assumptions, after all, have long defined human history.
In her latest book, Caste: The Origins of Our Discontents, Pulitzer Prize winner Isabel Wilkerson dives deep into the pillars that underlie such systems, from divine will to heredity, putting human faces on the power of human rankings. In selecting Caste for her book club, Oprah Winfrey proclaimed it to be the most essential book she's ever chosen. The New York Times called it an "instant classic" – and Time one of the best books of the year.
Wilkerson joins us to discuss the enduring potency of these hierarchies of human value and their brutal consequences, especially for Black Americans. The first African American woman to win the Pulitzer Prize in journalism, Wilkerson is the author of The Warmth of Other Suns: The Epic Story of America's Great Migration, named to Time's 10 Best Nonfiction Books of the Decade and to the New York Times Magazine's Best Nonfiction of All Time.
In conversation with Rabbi Joshua M. Davidson.
Date: May 5, 2021
Time: 7:30 pm
Event: An Evening with Mentalist Oz Pearlman
RSVP: www.ujafedny.org/ozpearlman

Temple Beth Sholom is happy to be participating in this Long Island community event supporting UJA. We hope that many of our members will join us for this family friendly program supporting a great organization doing so much for the community.
Temple Beth Sholom co-chairs: Jay and Debbie Dubowsky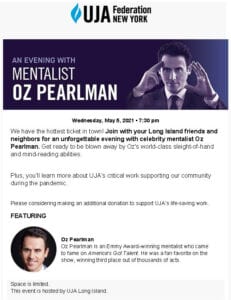 Date: October 12-19, 2021
Event: Ramah Israel Bike Ride and Hiking Trip
to support Tikvah programs for campers with disabilities
ramahridehike.org
Registraion: $950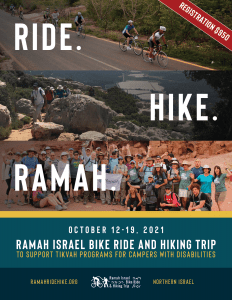 ---