An Array of Events Happening
in our Surrounding Community
Date: February 2021
Event: The Bryant Library Celebrates Black History Month
www.bryantlibrary.org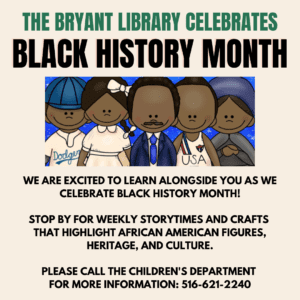 Date: February 2021
Event: Zioness Celebrating Black History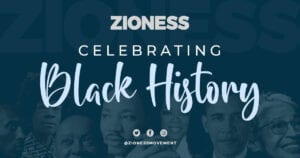 On Sunday we began the month-long celebration of Black history. Every February since 1926, our country has celebrated the achievements of African Americans and their contributions to our American story.
Did you know Black History Month was not always a month?
Pastor Jesse Moorland and Dr. Carter Woodson, like many Black Americans, were disappointed and frustrated at the erasure of Black Americans and their contributions to society in historical texts. Together they founded the Association for the Study of Negro Life and History to promote the study of Black history and commemorate the achievements of Black Americans. In 1926, this vision expanded into "Negro History Week" to be celebrated during the second week of February, to honor the birthdays of two pioneers of civil rights history: Abraham Lincoln (February 12) and Frederick Douglass (February 14).
Schools began studying more Black history, and Black history clubs started forming all across the country. This laid the groundwork for the White House to nationally recognize and elevate the week into Black History Month.
Though Black History Month takes place in February, we have the responsibility to know and celebrate the voices and history of Black Americans every day of the year. For the next four weeks, Zioness will be posting historical figures and facts, and celebrating Black history with various virtual events. We encourage you to join us, to read and share these posts, learn more, and amplify Black voices––not just in February, but year-round, in all areas of your life and work.
https://zioness.org/events/
Date: February and March 2021
Event: Scholarstream: An initiative of the RCA, USCJ, JTS and Ziegler
ScholarStream is a four-part series which gives communities and individuals the opportunity to learn from some of the world's leading scholars and engage deeply with our texts and traditions. We are proud to be launching our 5th and 6th series, beginning over the next two weeks. Join hundreds of communities and thousands of participants who have already tuned in to our programs.
Sign up is $25 per series. Check with your synagogue to find out if they are a sponsor, and you can get a coupon code to register for free. Information and links to sign up are below.
Jews and Power: From Biblical to Modern Times
Wednesdays at 8 PM ET / 5 PM PT
An exploration of the implementation of Jewish power, in the past and in the present. How have Jews rebelled against, accommodated to, and made use of structures of power in varying historical contexts?
Reimagining Exodus Through Stories, Songs and Sightseeing
Thursdays at 1 PM ET / 10 AM PT (1st three sessions);
Tuesday at 1 PM ET / 10 AM PT (4th session)*
Join faculty of the Conservative Yeshiva for some Passover-themed learning
Date: October 12-19, 2021
Event: Ramah Israel Bike Ride and Hiking Trip
to support Tikvah programs for campers with disabilities
ramahridehike.org
Registraion: $950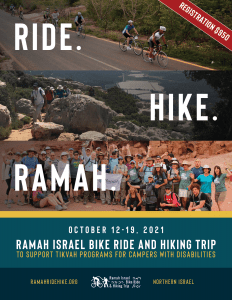 ---