A Community Connected: The Power of Creative Engagement and Snail Mail
We are very fortunate to have an incredible partner at the Atria who is a pleasure to work with and is just as thrilled to see how this program is unfolding, said Sharon Solomon, Director of the Religious School at Temple Beth Sholom in Roslyn Heights New York.
In an effort to connect young adults to the community and become involved in social action, Sharon Solomon and Grant Coordinator, Hanna Harel have coordinated with the Atria in Roslyn Harbor to create a truly special relationship.
Temple Beth Sholom has been awarded a four-year grant to bring students to the Atria Center.  The goal and belief are that our students and the senior community will learn from one another, engage with one another, and through a variety of fun and inclusive activities, become friends.  More important, intergenerational engagement has been a great success thus far and has superseded any initial expectations.  Temple Beth Sholom wishes to empower students with these educational tools as they move forward on this amazing intergenerational journey with the seniors
Harel and Solomon mention that students can't wait to return each month to the Atria and the level of enthusiasm increases each time.  "It is a sheer joy and blessing to watch the students arrive at the Atria Center in Roslyn and race over to their senior buddies and see how they are doing," said Solomon.  Both seniors and students thrive at each gathering through their mutual interactions.  Senior residents are constantly eager for the next visit, elated to share their wisdom with the students.  Some seniors do not have grandchildren nearby and have come to find that some students do not have grandparents.  Relationships between the two in these cases are special and rare, creating friendships and a greater reason to return to the Atria each month.
A handful of seventh grade students visit the Atria monthly.  "Our goal is to have each group, young and old, learn from and with each other," mentions Harel.  Each session with the seniors has a teaching aspect that is integrated into the seventh-grade curriculum. The students reflect on each session in class with their teacher through discussion and relating what they are doing with the seniors to well-known texts from scholars and Rabbis, Torah parashot and mitzvot.  Students are then taking those reflections and writing something meaningful to them on beautiful butterflies.  These butterflies are attached to the board that was given to the Temple by the Atria to create each of our student's journeys.
Over the course of five sessions, from October through February, the students began to build relationships with their seniors through icebreakers and instruction in new technologies, shared valuable learning experiences with them such as welcoming guests (hachnasat orchim), celebrated holidays together, learned new skills together such as painting and generally thoroughly bonded with them.  A sixth session was canceled due to the Coronavirus pandemic and it is hoped that everyone will be able to reconnect in person in the future.
One session describes perfectly the wonderful relationship building that would take place.  A recent activity had a piece of paper with the names of a famous person, either from the past or from the present, pinned to everyone's backs.  Trying to guess the name on their backs resulted in much conversation, two-way learning, discussions and much laughter.  Both young and old benefitted.
Meagan Devine-Collazo, Program Coordinator for the Atria notes that senior attendance at each session has increased as the word spreads about the fun and excitement of all participants.  "We have a wonderful recurring group of seniors with increasing newcomers each session."  The seniors anxiously wait for the students' next visit, asking "where is my boy or where is my girl?" From the past three visits, friendships between the students and seniors have already been formed.  Students are comfortable in their environment and enjoy getting to know the seniors each time.
While everyone has been sheltering in place, the students have been encouraged to write handwritten letters to their buddies to stay connected.  "Most seniors do not have the technology skills and experience that you have.  Their primary form of communication is telephone calls and reading letters.  To receive a letter from you will mean the world to them," said Solomon in her note home to students.  Solomon plans to mail letters out to the Atria on Roslyn Harbor after the holidays as well as collecting for distribution games and activity books to engage the seniors during these isolating times.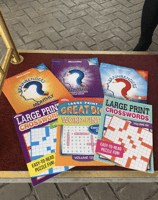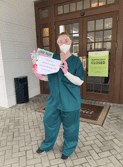 Program Coordinators from Temple Beth Sholom and the Atria on Roslyn Harbor are hopeful that once social distancing orders are lifted, students will return to the Atria with smiling faces to reunite with their buddies. The students and seniors have developed a great rapport in a matter of a few sessions. Residents seek out their new student friends each session furthering these intergenerational friendships. When the students leave, Devine-Collazo comments that "the community is buzzing with what a wonderful a time they had. We can't think of a better way to begin our mornings! The impact the program has ripples through until the next visit."