Nourishing Our Souls: A Celebration of Miriam
Take a break from Passover preparations and join Sisterhood to nourish and refresh your spirit, as we celebrate the legacy of Miriam the prophetess. Through conversation, music, dance, and art, we'll reflect on Miriam's legacy and consider how it can inspire us to sustain ourselves even as we do the important work of caring for others. Program highlights will include:
An exploration of ancient and modern teachings about Miriam
Creating and sharing our own tambourines, in honor of Miriam's role as a songleader
Music and Israeli dance
Celebrating our connections with our sisters
Participants are invited to craft their own tambourines in advance of the event. We'll have the opportunity to share our handiwork on-screen during the event, and to use our tambourines during the Israeli dance segment of our celebration. Please see below for information about how to make your tambourine.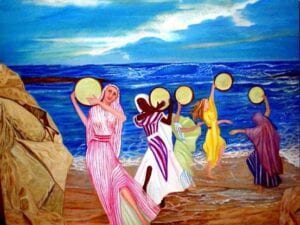 Registration is required to receive your Zoom link by submitting the form below.
(Please check your spam/junk mail for the email confirmation with the Zoom link)
Nourishing Our Souls: A Celebration of Miriam