Scrumptious Latkes featuring Avery Robinson
TBS Sisterhood presents Scrumptious Latkes featuring Avery Robinson.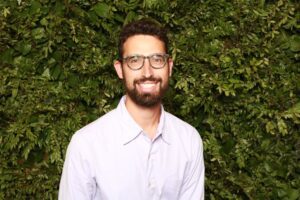 Avery Robinson is a culinary historian who has written over 100 pages on kugel, baked challah for 300+ on an open fire, and worked in bakeries in Tel Aviv and NYC. Avery is a cofounder of Rye Revival, a nonprofit promoting rye as a climate change mitigation strategy; manages Black Rooster Food, which makes 100% rye sourdough bread; and works as an engagement officer for the Natan Fund. He received his MA in Judaic Studies from the University of Michigan.
We're cooking latkes!! Come cook/eat 4 different varieties of latkes, including syrniki, a Ukrainian/Slavic cheese latke. As we nosh, we will discuss the history of Hanukkah fritters and how global Jewish culinary traditions maintain the miracle of the oil (i.e., we can eat doughnuts all week and barely gain a pound!).
4:45 PM: Sous Chef (Hands on Cooking)
(Includes Cooking Demo & Tasting)
Sisterhood Members $54
Non-Sisterhood Members $72
Limited Seating Available (Sous Chef 12 Spots)! 
7:00 PM Sharp: Cooking Demo and Tasting ONLY
Sisterhood Members $36
Non-Sisterhood Members $54

Sponsorships Available:
Gold Sponsor: $36
Silver Sponsor: $18
Registration is required by submitting the form below. Deadline to register: December 6
Scrumptious Latkes featuring Avery Robinson