Sisterhood Evening Book Discussion Group
If you are a night owl and a book worm, please join us for our evening book group. The featured book this month will be It Could Happen Here: Why America Is Tipping from Hate to the Unthinkable―And How We Can Stop It by Jonathan Greenblatt.
Queens College Jewish Studies Center has made 10 signed copies of this important book available to our book group.  The first ten registrants can receive their own copy – information will be sent to you after you register. Donations to the Queens College Jewish Studies Center in appreciation of their support for our book group can be made at: https://www.qcjewishstudies.org/cjs
Today, as CEO of  ADL (the Anti-Defamation League), Jonathan Greenblatt has made it his personal mission to demonstrate how antisemitism, racism, and other insidious forms of intolerance can destroy a society, taking root as quiet prejudices but mutating over time into horrific acts of brutality. In this urgent book, Greenblatt sounds an alarm, warning that this age-old trend is gathering momentum in the United States—and that violence on an even larger, more catastrophic scale could be just around the corner.
But it doesn't have to be this way. Drawing on ADL's decades of experience in fighting hate through investigative research, education programs, and legislative victories as well as his own personal story and his background in business and government, Greenblatt offers a bracing primer on how we—as individuals, as organizations, and as a society—can strike back against hate. Just because it could happen here, he shows, does not mean that the unthinkable is inevitable.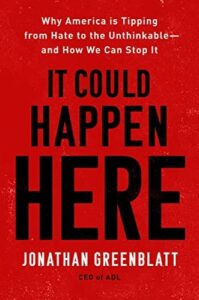 Facilitator: Wende Jager-Hyman
Registration is required to receive your Zoom link. Please submit the form below. 
(Please check your spam/junk/promotions mail for the email confirmation)
Sisterhood Evening Book Discussion Group 6/27/22