Sisterhood's Annual Hanukkah Party!
You're invited to Sisterhood's Annual Hanukkah Party for latkes, laughs & sisterly love!
Stock the Fridge!
Be the light and the bridge that fights food insecurity!
The Crown Heights Friendly Fridge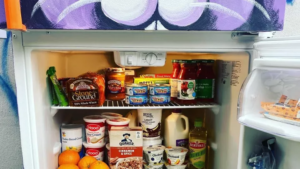 PLEASE BRING 3 or more items from each category: Fresh Produce (Celery, Bananas, Carrots (baby or full size), Squash, Broccoli, Onions, Potatoes, Cherry Tomatoes, Lettuce, Brussel Sprouts, String Beans, Spinach or other fresh produce); Dairy (Yogurt 6 packs, Eggs, Milk, Packaged Cheeses, Cream Cheese, Butter, Cottage Cheese, Sour Cream); Pantry Staples (Bread, Peanut Butter, Grape Jelly, Tuna, Ketchup, Mustard, Mayonnaise, Oatmeal, Vegetable Oil, Olive Oil, Kosher Salt, Canned Beans, Chef Boyardee, Canned Mixed Vegetables, Granola Bars, Tomato Sauce, Spaghetti); Grab & Go Items for People Without Housing (Applesauce, Yogurt or Yogurt Drinks, String Cheese, Protein or Granola Bars, Tuna and Cracker Packs, Pudding, Oranges or Bags of Clementine, Nuts in packages, Canned Pineapple or Dole Fruit Multi Packs, Water Bottles).  All items will be used to stock the Crown Heights Friendly Fridge.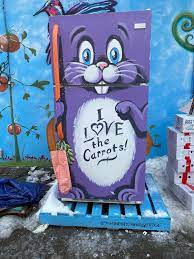 As part of the festivities for the evening, TBS Sisterhood will be partnering with the Crown Heights Friendly Fridge project, founded by Joie Jager-Hyman (daughter of  TBS members, Wende Jager-Hyman and Arnold Hyman).  Joie Jager-Hyman will share information about food insecurity, and how the fridge became a vital part of her community. A short film about the project will be viewed, and food contributions will be accepted by Ms. Jager-Hyman at the event for the Crown Heights community fridge.
A community fridge is an approachable, public, free to take from the fridge, stocked full of fresh food.  The idea is to provide fresh food–particularly produce–to low income individuals and families. A dedicated team of volunteers, stocks the fridge each day with fruits, vegetables, dairy, grains, and other groceries, all of which are available to anyone in need.  Neighbors are supporting neighbors, to create a thriving community.