Yom Hashoah
YOM HASHOAH
G'dank! Recordate! Zachor! Remember!
Antisemitism, Then and Now. Our Community United Against Hate.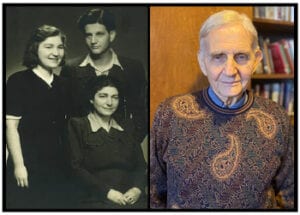 January 27, 2021 marked the 76th anniversary of the liberation of Auschwitz. Seventeen-year-old Erwin Forley was there. Hear his inspiring story.
Those who cannot remember the past are condemned to repeat it. – George Santayana
Never Again! We will always remember!
Regretfully, due to the current coronavirus situation, it is not possible to bring everyone to Temple for our Yom HaShoah commemoration.
However, we as a community can and must still remember. Although we cannot be together physically, we can still keep our pledge to never forget and join together online to remember those who perished and honor those who survived. Although we will be uniting through technology, this is not a virtual gathering, it is a true gathering and a true commemoration.
When we remember, when we understand what hatred can do, we can learn and bring hope into the world for a brighter future.
Join us at our annual Yom HaShoah commemoration honoring the memory of the seventeen million who died in the Holocaust, including six million Jews.
7:00 pm: Ma'ariv – Services Via Zoom Only
7:15 pm: Yom HaShoah Commemoration
Ani Ma'amin – Cantor Barnoy
Scroll of Remembrance
Welcome – Wende Jager-Hyman
Introduction of Survivors – Rosalyn Landsman
Candle Lighting by Survivors
Witness Project – Video
Student Survivor Programs and Introduction of Our Students – Sharon Solomon
Student Presentation and Candle Lighting
El Maleh Rachamim – Cantor Ofer Barnoy
Mourner's Kaddish – Rabbi Cara Weinstein Rosenthal
Introduction of Erwin Forley – Rabbi Alan Lucas
Guest Speaker – Erwin Forley
Musical Selection – Cantor Ofer Barnoy
The Partisan Song – Cantor Ofer Barnoy
Scroll of Remembrance